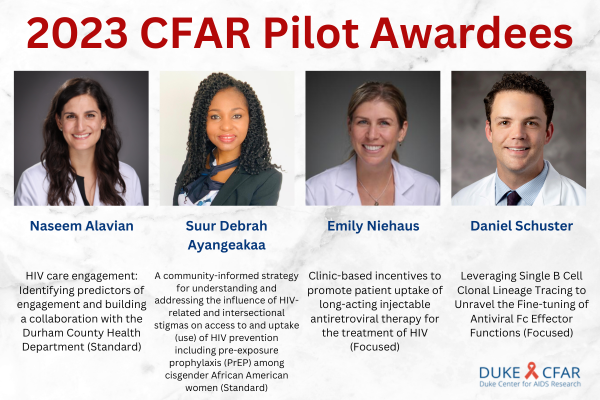 The CFAR Developmental Core provides resources and services to CFAR members to enhance career development in basic, clinical or social and behavioral sciences. Resources and services provided by the Developmental Core include funding for small grants to assist CFAR members in the generation of preliminary data to support grant proposals submitted to external funding agencies. The CFAR Developmental Core Pilot Awards support scientific studies for 1 year.
This year, the Duke CFAR awarded two Standard grant awards of $100,000 and two Focused grant awards of $60,000. Congratulations to the grant recipients!
Naseem Alavian, MD, MPH - HIV care engagement: Identifying predictors of engagement and building a collaboration with the Durham County Health Department (Standard)
The aim of this proposal is to gather preliminary data that will inform the development and implementation of a health system-based effort to improve care engagement among people living with HIV (PWH) that may be scaled and disseminated in the region. By increasing retention of PWH on life saving antiretroviral therapy we will reduce HIV morbidity and mortality, as well as work toward reducing new HIV incidence and ending the HIV epidemic through Treatment as Prevention, a priority goal of the National Institutes of Health.
Suur Debrah Ayangeakaa, PhD, MPH - A community-informed strategy for understanding and addressing the influence of HIV-related and intersectional stigmas on access to and uptake (use) of HIV prevention including pre-exposure prophylaxis (PrEP) among cisgender African American women (Standard)
In 2019, HIV diagnoses increased in NC; 63% of cases were African American and 19% were women. Intersecting stigma impacts HIV disparities among African American women, but is not well understood. Understanding intersecting stigmas can enhance efforts to increase HIV prevention among African American women by improving acceptability of PrEP. The purpose of this proposal is to obtain preliminary data needed for achieving a long-term goal to design, implement, and evaluate a multi-level community-informed, culturally tailored intervention to address intersectional and HIV-related stigmas influencing HIV prevention uptake such as PrEP among cisgender African American women.
Emily Niehaus, MD, MPH - Clinic-based incentives to promote patient uptake of long-acting injectable antiretroviral therapy for the treatment of HIV (Focused)
This project will evaluate clinic-based strategies that incentivize patients to uptake Long-acting injectable antiretroviral therapy (LAI-ART), which has the potential to address treatment fatigue, stigma, and care disengagement among people living with
HIV taking daily oral ART. We will specifically investigate how a LAI-ART regimen could be leveraged in the clinic to optimize cardiovascular disease risk management, which bears significant public health impact given the rising incidence of CVD-related morbidity and mortality in people with HIV.
Daniel Schuster, MD, MS - Leveraging Single B Cell Clonal Lineage Tracing to Unravel the Fine-tuning of Antiviral Fc Effector Functions (Focused)
B cells produce antibodies of various amounts and quality in response to HIV-1 vaccination or infection. Antibody glycosylation is one way that antibodies fine-tune their interactions with the rest of the immune system. Whether B cells regulate glycosylation through evolution within clonal families or by producing new families of B cells is a fundamental unanswered question in immunology/medicine that will help advance the field. Results from this pilot study will fill a critical gap in B cell immunology regarding intracellular regulation of antibody post-translational modifications.