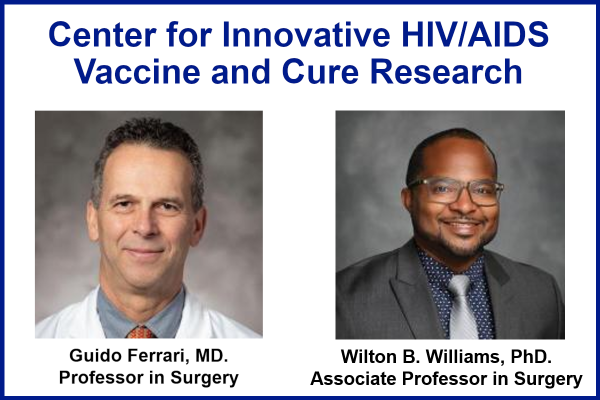 Congratulations to Dr. Guido Ferrari, Professor in Surgery, and Dr. Wilton Williams, Associate Professor in Surgery, for receiving NIH funding for their Co-PI grant, "Center for Innovative HIV/AIDS Vaccine and Cure Research (CIAVCR)". The UM1 award will build upon the development of the team's vaccine strategy to induce protective immune responses in non-human primate (NHP) models by exploring innovative messenger ribonucleic acid (mRNA) constructs for immunogen delivery that can elicit both protective and therapeutic B and T cell responses.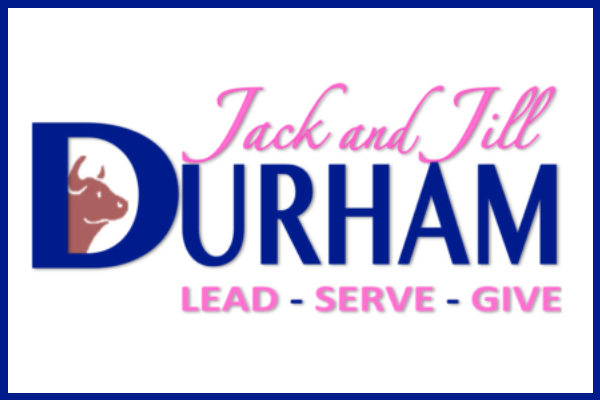 The CFAR Immunology Core in collaboration with the Center for Center for Human Systems Immunology (CHSI) invite you participate a science outreach event with the Jack and Jill of Durham organization on Saturday, September 24th, 2022 from 9 am-noon at Lyon's  Farm Elementary School in Durham.
We will be providing hands-on-learning and science demonstrations for kids ages pre-K to high school at their annual kick-off event. Multiple stations will be available to highlight various aspects of science at age-appropriate levels.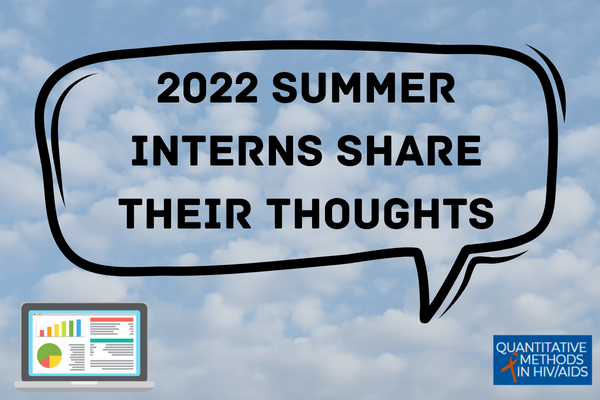 The Quantitative Methods for HIV Researchers Summer Internship program offers full-time summer internships for graduate students in the quantitative sciences to conduct research in leading HIV/AIDS laboratories, co-mentored by both an HIV/AIDS researcher and quantitative science faculty. These internships immerse graduate students in the quantitative sciences necessary for research currently underway in leading HIV/AIDS laboratories. HIV/AIDS focused PIs submit their proposals in the fall and student applicants are screened and matched with appropriate projects in Clinical, Translational, or Socio-behavioral Science.
This summer, fifteen interns were paired with a Duke CFAR PI and Quantitative Mentor to support an ongoing research project. We asked a few interns to share their experiences and reflect on the summer.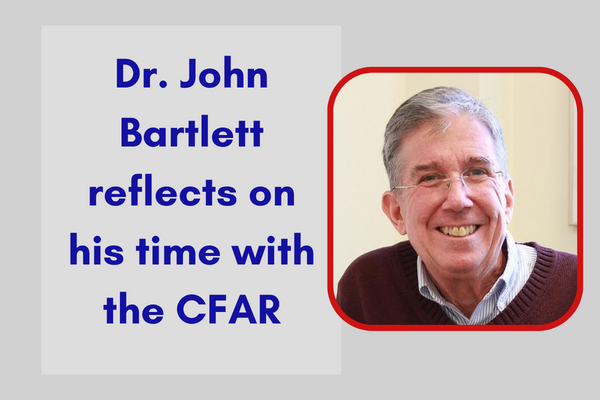 After many years of service as Clinical Core Director, Dr. John Bartlett is passing the baton to Dr. Dorothy Dow and Dr. Thuy Le, who will lead the core as Co-Directors. Dr. Bartlett is a Professor of Medicine, Global Health, and Nursing at Duke University Medical Center and Professor of Medicine at Kilimanjaro Christian Medical Centre in Moshi, Tanzania. Duke CFAR Director Dr. Georgia Tomaras recognizes the incredible legacy Dr. Bartlett has had at Duke so far: "John inspired ongoing research at Duke to understand natural control of HIV replication in PLWH. His work to build the infrastructure for these types of studies at Duke have been enabling for the research programs of several early career investigators."
We asked Dr. Bartlett to share a few reflections on his involvement with CFAR over the years.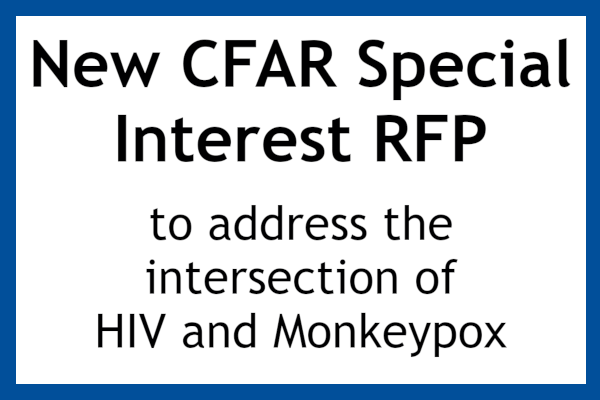 The Duke Center for AIDS Research (CFAR) is soliciting applications for grants of up to $60,000 Direct Costs for one-year research projects that address the intersection of HIV and the Monkeypox Virus
The purpose of this funding opportunity is to support research aimed at evaluating all issues at the intersection of the current monkeypox outbreak and people living with HIV (PLWH).  Proposals on basic biology, pathogenesis/immunology, epidemiology, clinical care, vaccines, and sociobehavioral considerations, will all be considered.  The award is for up to $60K in direct costs for up to 1 year.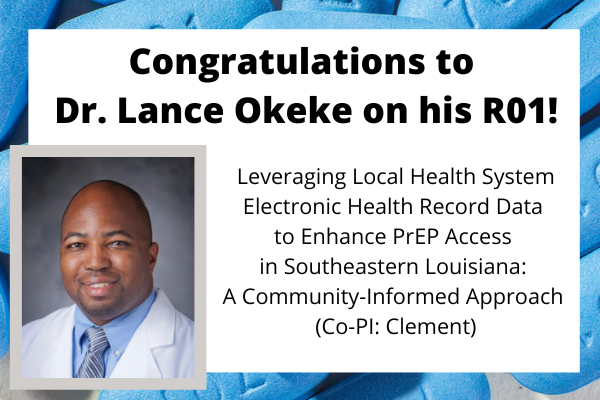 Dr. Lance Okeke awarded R01 to explore use of electronic health record data to inform strategies for PrEP uptake
Congratulations to Dr. Nwora Lance Okeke, Assistant Professor of Medicine and Infectious Diseases provider, for being awarded an R01 entitled "Leveraging Local Health System Electronic Health Record Data to Enhance PrEP Access in Southeastern Louisiana: A Community-Informed Approach" along with co-PI Dr. Meredith Clement of Louisiana State University.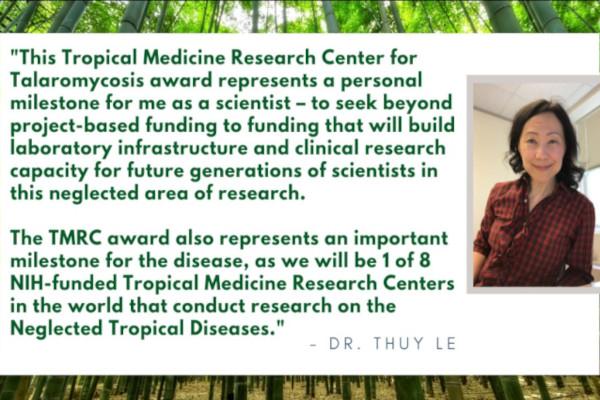 Dr. Thuy Le and team to address a leading cause of HIV-associated death in Southeast Asia through NIH U01 award
Congratulations to Dr. Thuy Le, an Associate Director of the Duke CFAR Clinical Core, who received a 2.5 million dollar NIH U01 award to develop a Tropical Medicine Research Center (TMRC) for talaromycosis in Vietnam. Talaromycosis is an invasive fungal infection endemic in countries in Southeast Asia and is a leading cause of death in patients with advanced HIV disease.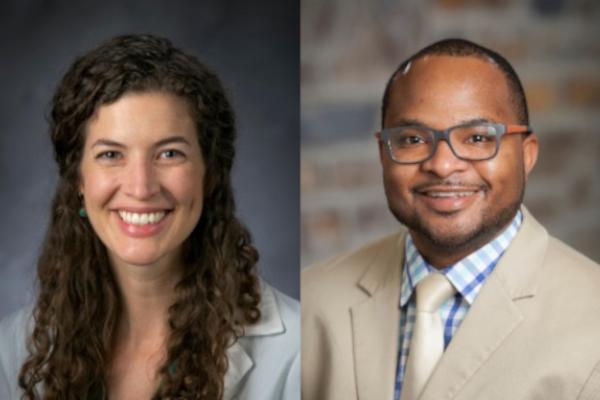 CFAR Members win School of Medicine Faculty Awards
Congratulations to Dr. Dorothy Dow and Dr. Wilton Williams for being selected as recipients of this year's School of Medicine faculty awards!
Dr. Dorothy Dow was awarded the Ruth and A. Morris Williams Faculty Research Prize, which was established to advance research opportunities for younger faculty members and to help publicize the caliber of medical research underway at Duke.
Dr. Wilton Williams was selected to be part of the Whitehead Scholars Program. Dr. Williams is an Associate Professor of Surgery, Associate Professor of Medicine, and an Assistant Professor of Immunology.