The Duke Center for AIDS Research (CFAR) is part of a network of NIH-funded CFARs across the nation. The principal mission of the Duke CFAR is to provide scientific leadership as well as establish, enrich, and provide continued infrastructure support to an academic research environment that will effectively promote collaboration and coordination among the community of HIV/AIDS investigators at Duke. Learn more about the services and support available to researchers at Duke through our scientific Cores.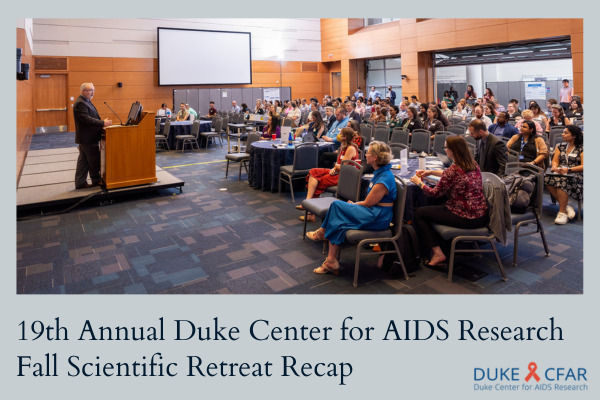 19th Annual CFAR Fall Scientific Retreat Recap
Thank you to everyone who joined us for the 19th Annual CFAR Fall Scientific Retreat, held on Thursday, September 14th. We had over 200 attendees, bringing together CFAR researchers from across campus and community members from the Duke Collaborative Community Council (D3C) to share in a packed day full of scientific updates and connecting in our common cause.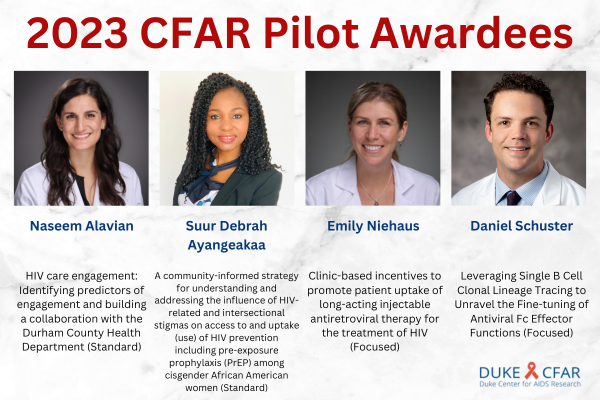 Congratulations to the 2023 CFAR Pilot Awardees
The CFAR Developmental Core provides resources and services to CFAR members to enhance career development in basic, clinical or social and behavioral sciences. Resources and services provided by the Developmental Core include funding for small grants to assist CFAR members in the generation of preliminary data to support grant proposals submitted to external funding agencies. The CFAR Developmental Core Pilot Awards support scientific studies for 1 year.
This year, the Duke CFAR awarded two Standard grant awards of $100,000 and two Focused grant awards of $60,000. Congratulations to the grant recipients!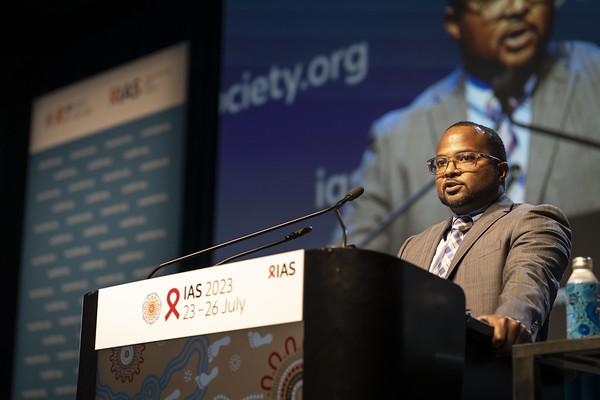 The 12th International AIDS Society Conference on HIV Science (IAS 2023), held in Brisbane, Australia in July, featured research from several CFAR investigators.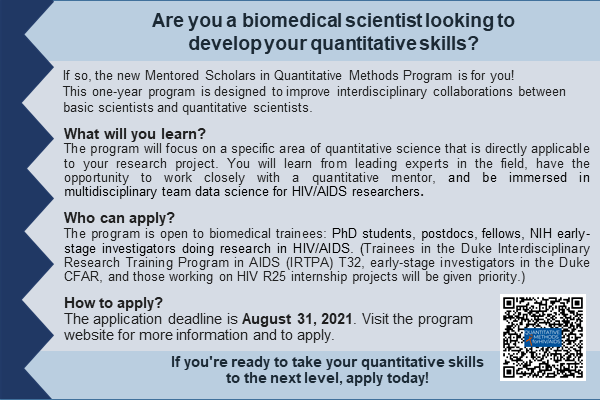 The Quantitative Methods for HIV/AIDS training grant was recently renewed, and is initiating a new program for Biomedical researchers to gain experience in interdisciplinary data driven, team science research with specialized mentorship from a quantitative expert.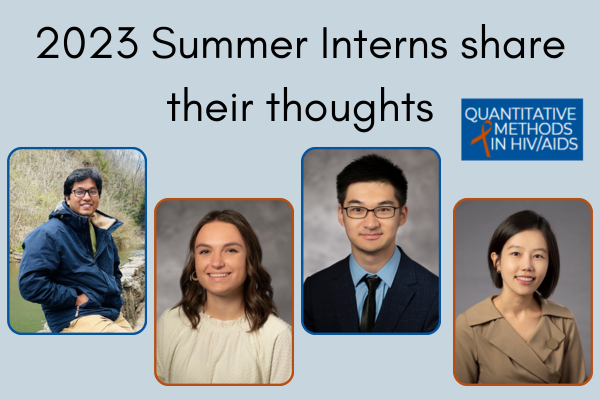 2023 Quantitative Methods for HIV Researchers Summer Internship Program: Profiles & Reflections
As part of a five-year NIAID R25 research education grant to deliver training in quantitative methods for HIV/AIDS research, the Quantitative Methods for HIV Researchers Summer Internship program provides mentoring and research experiences in HIV/AIDS for Masters or PhD students from quantitative disciplines such as statistics, biostatistics, data science, mathematics, computer science, and engineering. The internship runs for 12 weeks during summer term and is designed to engage quantitative trainees in real-world HIV/AIDS research, providing the opportunity to conduct research in leading HIV/AIDS laboratories, co-mentored by both an HIV/AIDS researcher and quantitative science faculty. The program is popular — in 2023, we received over 50 applications. This summer, thirteen interns were paired with a Duke CFAR PI and Quantitative Mentor to support an ongoing research project.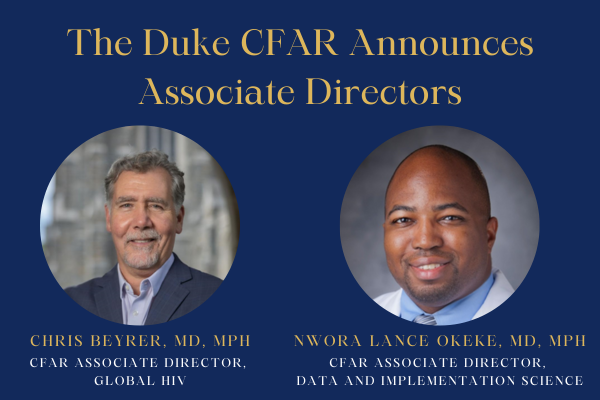 The Duke Center for AIDS Research (CFAR) is pleased to announce the appointments of Chris Beyrer, MD, MPH and Nwora Lance Okeke, MD, MPH as Associate Directors of the CFAR starting July 1, 2023. Drs. Beyrer and Okeke will join Director Georgia D. Tomaras, PhD and Co-Director Susanna Naggie, MD, MHS in leadership of the Duke CFAR. The addition of Drs. Beyrer and Okeke as Associate Directors will strengthen the continued evolution of the Duke CFAR with a focus for development in data and implementation science, global HIV research, and collaborations with historically black colleges and universities (HBCUs).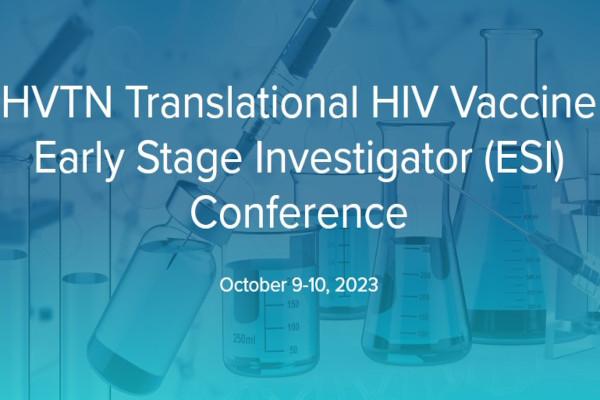 The HIV Vaccine Trials Network (HVTN) will host the 7th Translational HIV Vaccine Early Stage Investigator (ESI) Conference October 9-10, 2023 at the University of California Conference Center in Davis, CA, just before the NHP AIDS Symposium.
This conference is intended for early stage investigators who focus on translational or preclinical HIV vaccine research in non-human primates (NHPs), or clinical HIV vaccine research.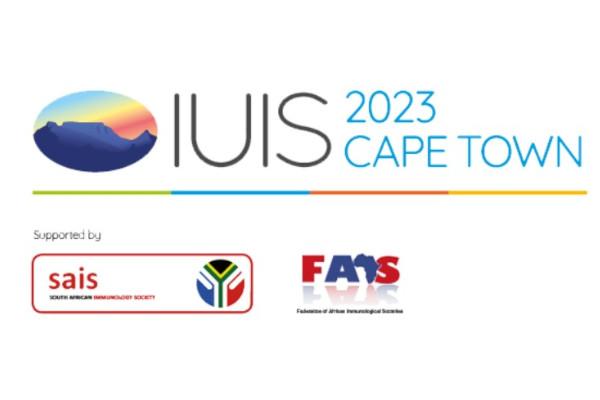 Please remember the 2023 International Union of Immunological Societies (IUIS) Congress, taking place from November 27th to December 2nd in Cape Town, South Africa. This congress is the world's leading event in the field of immunology, covering all topics related to this exciting and rapidly evolving field.
At IUIS 2023, you will have the opportunity to engage with leading immunologists from around the world, participate in thought-provoking sessions and workshops, and share your research with a diverse and engaged audience. The congress will feature cutting-edge presentations on topics such as immunotherapy, autoimmune diseases, infectious diseases, and much more.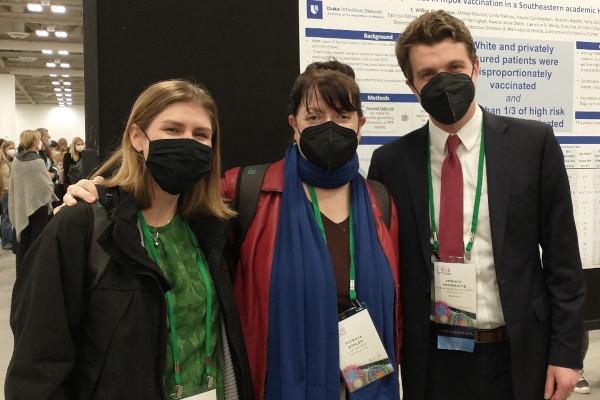 CFAR Trainees present findings from CFAR-funded project at CROI
The 30th Annual Conference on Retroviruses and Opportunistic Infections (CROI) was held February 19-22 in Seattle, Washington and virtually. Established in 1993, CROI brings together basic scientists and clinical investigators to discuss the epidemiology and biology of human retroviruses and associated diseases. In addition to the latest science related to HIV, this year's program also featured new findings on SARS-CoV-2 and the mpox virus (formerly known as monkeypox).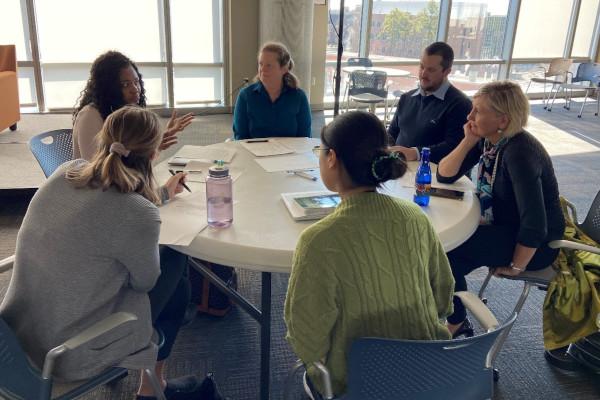 "Everybody is important in this ecosystem":  CFAR members participate in workshop with Dr. Glenda Gray on Why Love, Compassion, and Advocacy are Essential for Impactful HIV Research
CFAR members, including trainees, faculty, and lab and program staff, gathered together on Tuesday, February 14th for an interactive workshop to reflect on what work we can do as researchers to center community and advocacy in our work and throughout our careers. We were joined by Dr. Glenda Gray, a pediatrician and co-founder of the Perinatal HIV Research Unit in Soweto, South Africa.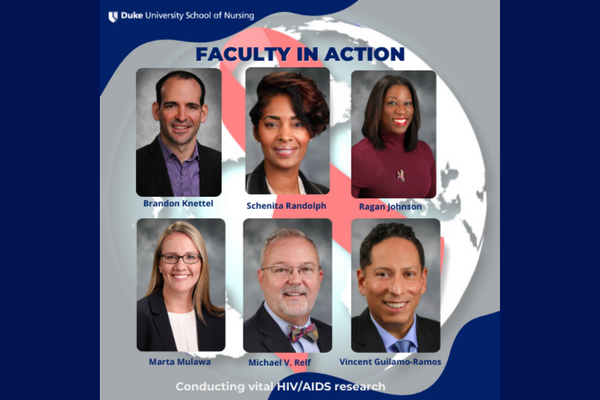 Duke School of Nursing Faculty Showcase the Important Role of Nurses in HIV Prevention and Treatment
The Duke University School of Nursing (DUSON) put together a special World AIDS Day newsletter highlighting the ongoing work by DUSON faculty to combat HIV stigma, address health inequities, and end the HIV epidemic. Profiles of six CFAR members at the School of Nursing were shared to demonstrate how faculty are designing nurse-led health care interventions and solutions that reduce health inequity among people living with HIV.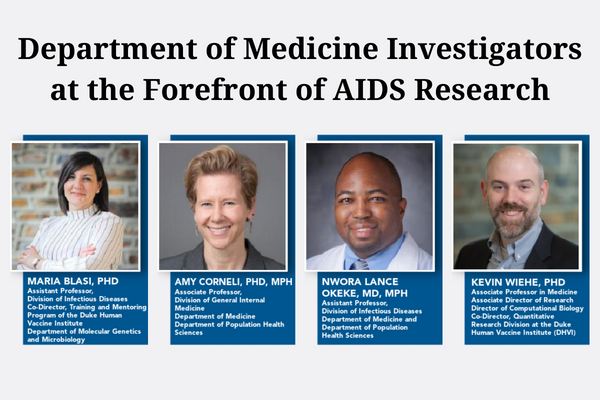 Department of Medicine Investigators at the Forefront of AIDS Research
Reflecting on the over 40 years of research since the discovery of HIV, the Department of Medicine recognized its many faculty members working at the forefront of HIV research and the contributions of the Duke CFAR. A featured article highlights the CFAR, led by Drs. Georgia Tomaras and Susanna Naggie, and shines a spotlight on four young faculty members in the Department of Medicine who help represent the diverse portfolio of HIV-related research at Duke.