The Duke Center for AIDS Research (CFAR) is part of a network of NIH-funded CFARs across the nation. The principal mission of the Duke CFAR is to provide scientific leadership as well as establish, enrich, and provide continued infrastructure support to an academic research environment that will effectively promote collaboration and coordination among the community of HIV/AIDS investigators at Duke. Learn more about the services and support available to researchers at Duke through our scientific Cores.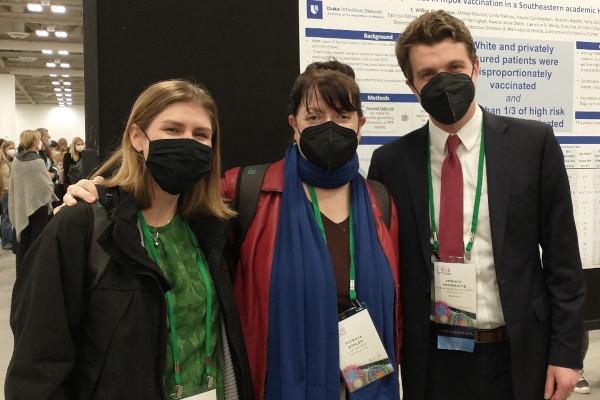 CFAR Trainees present findings from CFAR-funded project at CROI
The 30th Annual Conference on Retroviruses and Opportunistic Infections (CROI) was held February 19-22 in Seattle, Washington and virtually. Established in 1993, CROI brings together basic scientists and clinical investigators to discuss the epidemiology and biology of human retroviruses and associated diseases. In addition to the latest science related to HIV, this year's program also featured new findings on SARS-CoV-2 and the mpox virus (formerly known as monkeypox).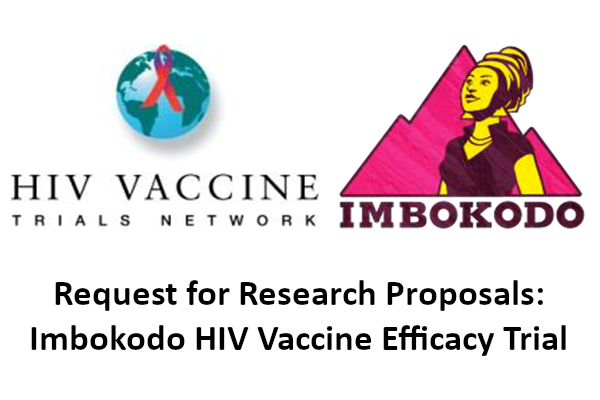 The HIV Vaccine Trials Network (HVTN), the NIH/NIAID Division of AIDS (DAIDS), and Janssen Vaccines and Prevention are pleased to welcome scientific study proposals involving specimens and/or study data from the Imbokodo (HVTN 705/VAC89220HPX2008) HIV vaccine clinical trial.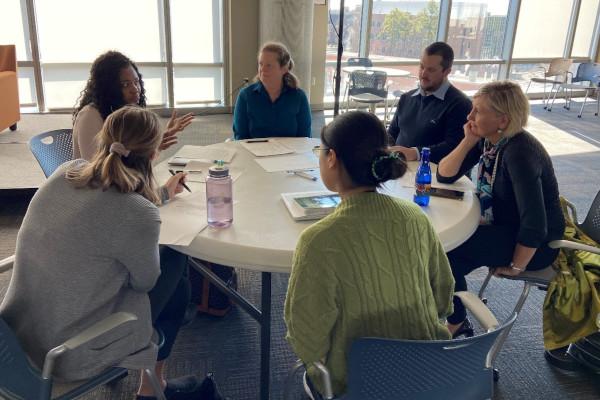 "Everybody is important in this ecosystem":  CFAR members participate in workshop with Dr. Glenda Gray on Why Love, Compassion, and Advocacy are Essential for Impactful HIV Research
CFAR members, including trainees, faculty, and lab and program staff, gathered together on Tuesday, February 14th for an interactive workshop to reflect on what work we can do as researchers to center community and advocacy in our work and throughout our careers. We were joined by Dr. Glenda Gray, a pediatrician and co-founder of the Perinatal HIV Research Unit in Soweto, South Africa.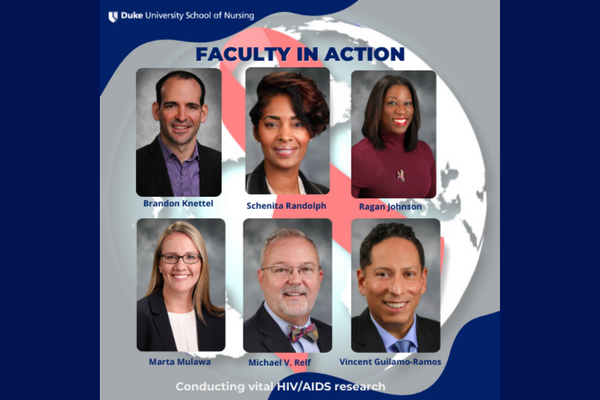 Duke School of Nursing Faculty Showcase the Important Role of Nurses in HIV Prevention and Treatment
The Duke University School of Nursing (DUSON) put together a special World AIDS Day newsletter highlighting the ongoing work by DUSON faculty to combat HIV stigma, address health inequities, and end the HIV epidemic. Profiles of six CFAR members at the School of Nursing were shared to demonstrate how faculty are designing nurse-led health care interventions and solutions that reduce health inequity among people living with HIV.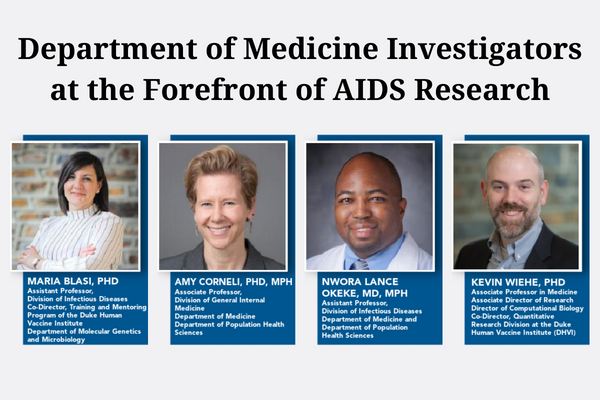 Department of Medicine Investigators at the Forefront of AIDS Research
Reflecting on the over 40 years of research since the discovery of HIV, the Department of Medicine recognized its many faculty members working at the forefront of HIV research and the contributions of the Duke CFAR. A featured article highlights the CFAR, led by Drs. Georgia Tomaras and Susanna Naggie, and shines a spotlight on four young faculty members in the Department of Medicine who help represent the diverse portfolio of HIV-related research at Duke.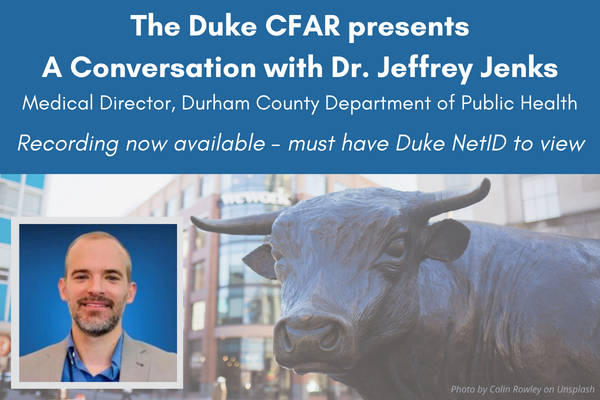 The Duke CFAR Presents A Conversation with Dr. Jeffrey Jenks
Tuesday, December 13th, 4-5pm
The Duke CFAR invites you to join a conversation with Dr. Jeffrey Jenks, Medical Director of the Durham County Department of Public Health. Dr. Jenks will present to the Duke community to help provide an understanding of the context of HIV in Durham and implications for us at the Duke CFAR.
Please click below to watch the recording.  Duke ID needed.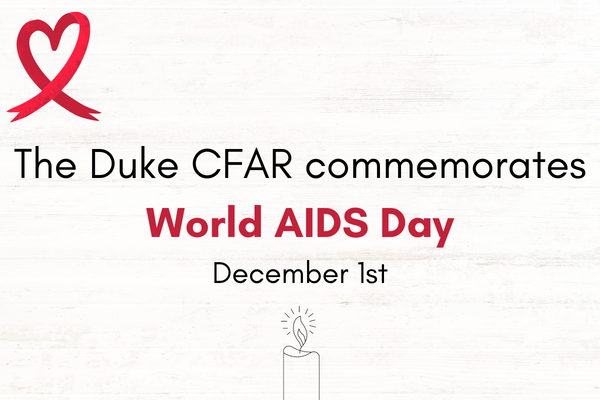 Each year on December 1st, we commemorate World AIDS Day, a day to "reflect on our worldwide response to HIV/AIDS while honoring the lives of those lost to AIDS-related illness. On this day, we also renew our commitment to supporting the wellbeing of those with HIV, as well as those at risk for infection." This World AIDS Day, we asked our CFAR members and others across Duke to share why they rock the ribbon for HIV awareness.
Learn more about World AIDS Day, visit our photo gallery to see how Duke is uniting in the fight against HIV, and look back at the early days of HIV at Duke.