The Duke Center for AIDS Research (CFAR) is part of a network of NIH-funded CFARs across the nation. The principal mission of the Duke CFAR is to provide scientific leadership as well as establish, enrich, and provide continued infrastructure support to an academic research environment that will effectively promote collaboration and coordination among the community of HIV/AIDS investigators at Duke. Learn more about the services and support available to researchers at Duke through our scientific Cores.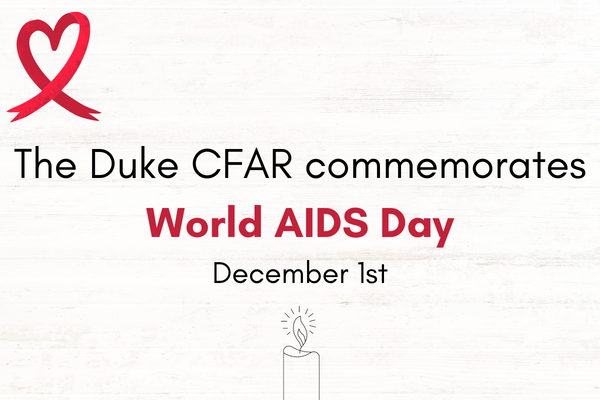 Each year on December 1st, we commemorate World AIDS Day, a day to "reflect on our worldwide response to HIV/AIDS while honoring the lives of those lost to AIDS-related illness. On this day, we also renew our commitment to supporting the wellbeing of those with HIV, as well as those at risk for infection." This World AIDS Day, we asked our CFAR members and others across Duke to share why they rock the ribbon for HIV awareness.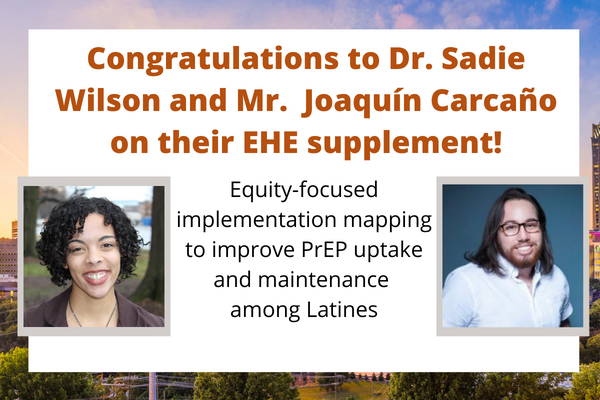 Last month, as part of their support of the Ending the HIV Epidemic in the U.S. (EHE) initiative, NIH announced 66 awards to institutions participating in the NIH-funded Centers for AIDS Research (CFAR) and the NIMH AIDS Research Centers (ARC) programs. This was the fourth year of NIH investments in EHE-focused research projects. These new awards total $26 million and will support research in 33 of the EHE priority jurisdictions to strengthen research-community collaborations and enhance the implementation science knowledge base needed to end the HIV epidemic. All projects involve partnerships between CFAR/ARC investigators and local health officials and community groups in one or more EHE jurisdictions.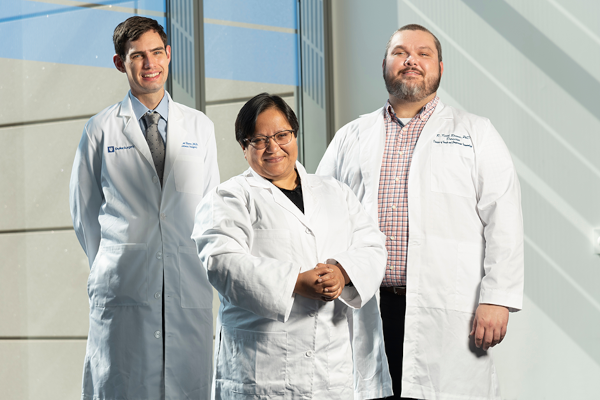 CFAR members helping to unravel the mysteries of the immune system
Understanding how the system functions harmoniously with our environment — and how we can harness its power to improve human health — is one of the five pillars of the Translating Duke Health Initiative. 
A recent article highlighted work by three researchers at Duke, including within the Duke CFAR.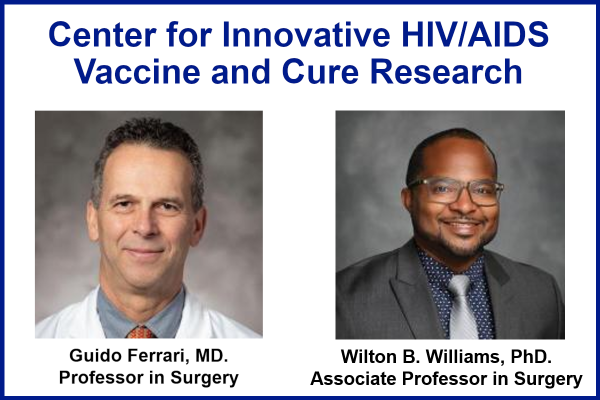 Congratulations to Dr. Guido Ferrari, Professor in Surgery, and Dr. Wilton Williams, Associate Professor in Surgery, for receiving NIH funding for their Co-PI grant, "Center for Innovative HIV/AIDS Vaccine and Cure Research (CIAVCR)". The UM1 award will build upon the development of the team's vaccine strategy to induce protective immune responses in non-human primate (NHP) models by exploring innovative messenger ribonucleic acid (mRNA) constructs for immunogen delivery that can elicit both protective and therapeutic B and T cell responses.