Mission Towards the Community
The Duke CFAR supports collaborative and community-centered research by facilitating connections and communication between CFAR researchers and community members. We aim to inform research at Duke by centering community needs and feedback, and enhance the reach and impact of Duke studies by assisting researchers in the sharing and application of findings in community settings.
Durham-Duke CFAR Collaborative Community Council
The Durham-Duke CFAR Collaborative Community Council will gather community members interested in supporting and shaping the conduct and impact of research related to HIV prevention and care. Members will work with researchers and staff from the Duke Center for AIDS Research (CFAR) to contribute to community outreach efforts, help review research proposals and protocols, and identify research priorities that are important to the community.

Leadership
The Council Co-Chairs are José R. and Eugenia R., and our Council Senior Advisor is Rita M.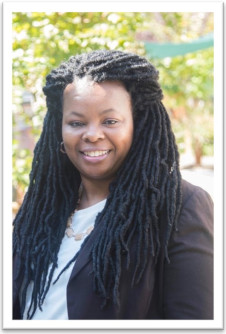 Eugenia Rogers, Co-Chair
I am a native of Durham, NC. I have been fortunate to raise my two beautiful children in the city I love and call home. I am an advocate for literacy and education. As a former librarian I believe we can empower people through education. I am especially enthusiastic about educating people about HIV and the stigma surrounding this virus. I joined the council to be a part of the work the council is doing on behalf of those living with HIV.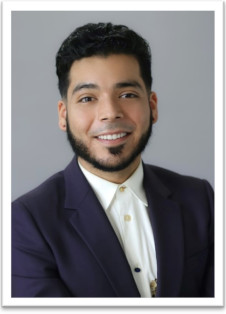 José A. Romero, Co-Chair
José A. Romero (they/them) is a Nonbinary Mexican/Salvadoran living with HIV committed to transformative justice and wellness for all BIPOC LGBTQI2S+ people and their communities. José was born in Washington State and graduated from the University of Pennsylvania with honors in Cultural Anthropology before moving to North Carolina. Since 2012 they have led anti-racist systems change across the US and Mexico in various leadership roles. Since 2017, they have provided gender-affirming Spanish interpretation/translation for clients globally. José is on the Board of the LGBTQ+ Center of Durham, Co-Chair at the SUSTAIN Wellbeing COMPASS Center of the University of Houston, and the inaugural Director of CARE at the Pride Foundation. Their work on HIV Racial Justice is featured in CNN's Blind Angels Series and they are actively recruiting multilingual PLWHIV for leadership opportunities.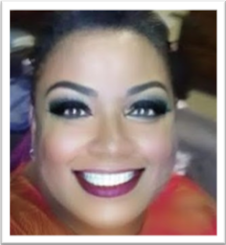 Rita McDaniel, Senior Advisor
I'm originally from Virginia and moved to North Carolina in 1983. Mother of 5. Contracted HIV in 1993. In 2010 I decided to live my life and not let HIV define me and so my journey began....I served on many boards and committees learning all I could about this infection I would live with for a lifetime. I've been a member of North Carolina AIDS Action Network for many years but in 2018 became an employee and am currently working with them. Put my passion is cisgender women of color wanting to educate them on how to protect them from contracting HIV. And educating them on Pep and Prep.
Membership
We are now recruiting for the Durham-Duke CFAR Collaborative Community Council! We are looking for people who care about HIV treatment and prevention to join. The Council will give feedback on HIV research done at the Duke Center for AIDS Research. Council members do not need to be living in Durham.
Members will:
Meet every other month with other community members and researchers from the CFAR

Help plan CFAR community outreach efforts

Review research projects and make suggestions on how to make them better for people in the studies

Identify research topics that are important to community
For more information and to apply, follow the Link to Application. Please email Lizzy Knippler at elizabeth.knippler@duke.edu with any questions.
Applications will be reviewed as they are submitted.  Applicants will be asked to schedule a 20-minute interview.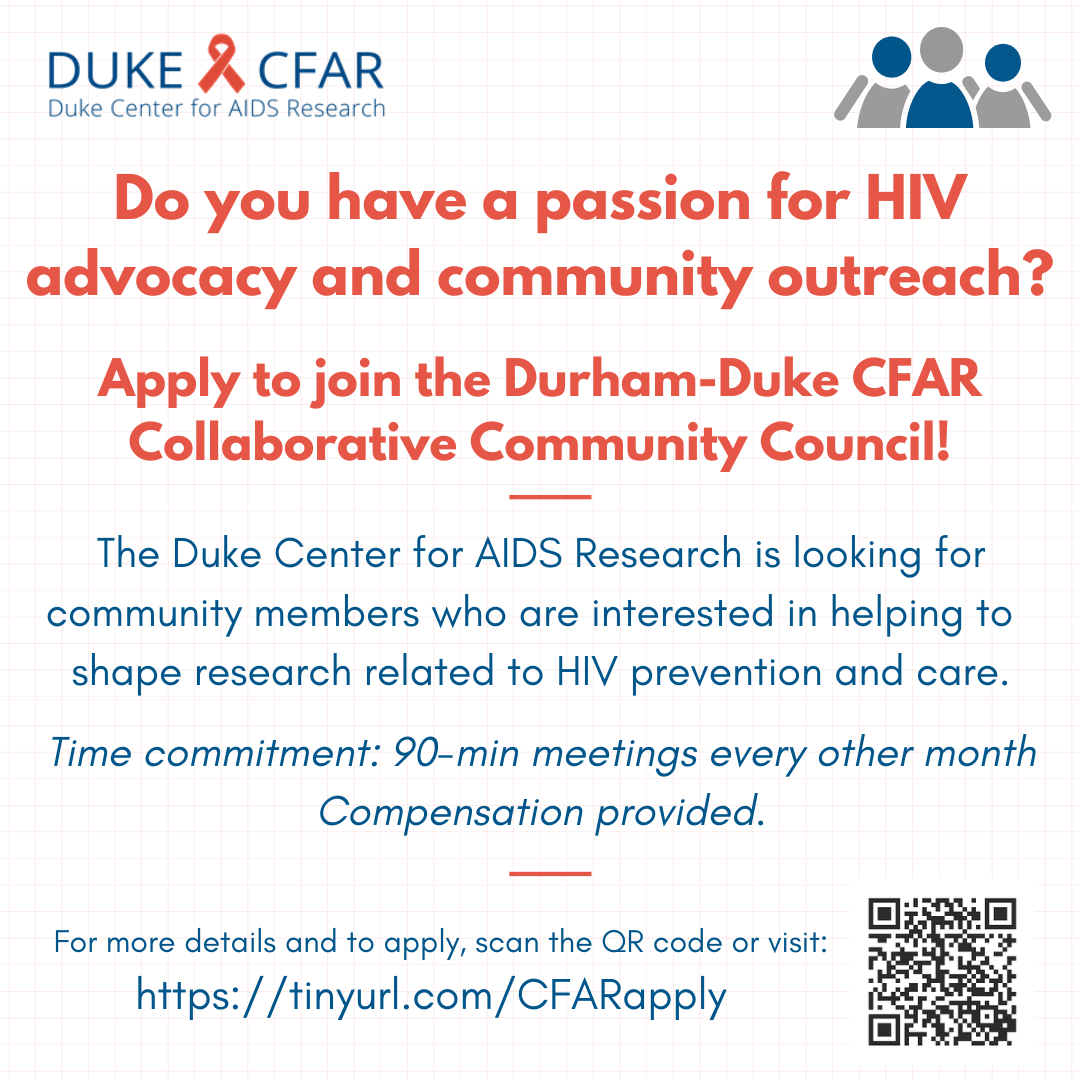 International Activities
Members of the Community Advisory Board (CAB) in Moshi, Tanzania provide essential input to CFAR activities occurring in collaboration with our principal international research partners at the Kilimanjaro Christian Medical Center (KCMC). The Moshi CAB includes approximately 30 members who represent persons living with or affected by HIV, non-governmental AIDS service organizations, governmental, and faith-based organizations.  The Moshi CAB includes a Youth Subcommittee which addresses the needs of youth living with or affected by HIV.