Commemorating World AIDS Day at the Duke CFAR
Each year on December 1st, we commemorate World AIDS Day, a day to "reflect on our worldwide response to HIV/AIDS while honoring the lives of those lost to AIDS-related illness. On this day, we also renew our commitment to supporting the wellbeing of those with HIV, as well as those at risk for infection."
Visit our photo gallery

to see how Duke is uniting in the fight against HIV.
This year's World AIDS Day themes call out the injustices of inequalities that perpetuate the HIV epidemic and emphasize the need to center equity in our efforts to address barriers to HIV testing, prevention, and access to care.
The U.S. Government (USG) theme for World AIDS Day 2022— Putting Ourselves to the Test: Achieving Equity to End HIV— "emphasizes accountability and action... through an approach that centers on communities disproportionately affected by the pandemic. This year, we observe World AIDS Day in the context of two other infectious disease threats—COVID-19 and monkeypox—which have heavily impacted many of those same communities. These epidemics have further highlighted that our public health response to HIV will require us to address health disparities holistically."
The UNAIDS slogan for World AIDS Day 2022 is "Equalize" – a call to action. "It is a prompt for all of us to work for the proven practical actions needed to address inequalities and help end AIDS."  A new UNAIDS report, Dangerous Inequalities, highlights the urgent need to address inequalities that are the driving force behind rising new infections and continuing deaths due to HIV, naming in particular gender inequalities, economic vulnerability, disparate access to treatment, power dynamics, and harmful gender norms. They name discrimination against, stigmatization, and criminalization of key populations as an enormous threat to lives and human rights.
Physicians and researchers at Duke have been working to address the challenges presented by HIV from the very start of the epidemic, providing compassion and care in the face of stigma and revolutionizing treatment options for those living with HIV through the conduct of clinical trials. Over the years, the Duke Center for AIDS Research has brought together researchers from across Duke, demonstrating the importance of research across disciplines, strong partnerships, and acknowledgement of the structures of inequality that result in disproportionate impacts of HIV, particularly among Black and Latinx communities and sexual and gender minorities.
This World AIDS Day, we asked our CFAR members and others across Duke to share why they rock the ribbon for HIV awareness.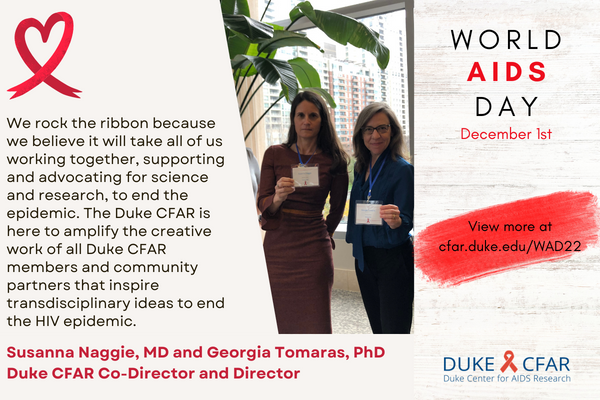 Looking Back: The Early Days of HIV at Duke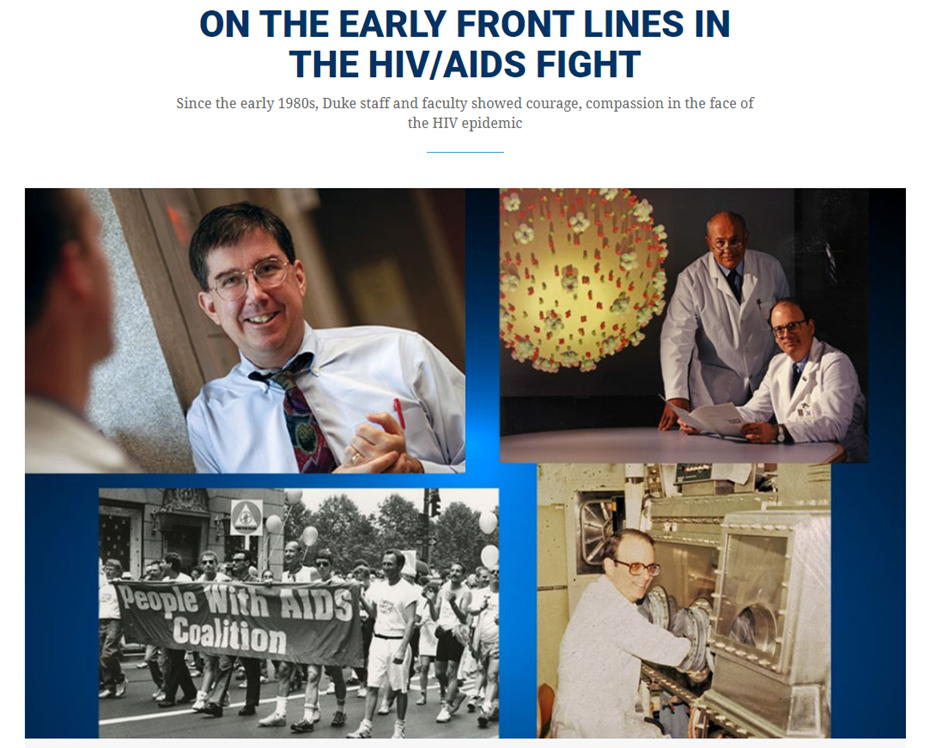 In recognition of World AIDS Day, a recent article introduced Duke team members who showed courage and compassion in the face of the HIV epidemic in the 1980s, from welcoming patients to discovering groundbreaking treatment options.
Read the full story.
AIDS Research and Human Retroviruses World AIDS Day Statement
Duke CFAR Developmental Core Director R. Keith Reeves is Co-Editor in Chief of the Journal AIDS Research and Human Retroviruses, which shared the following Editors' Call to Action on World AIDS Day:
On the backdrop of three epidemics, COVID-19, Monkeypox, and opioid use disorders, December 1st, 2022 marks World AIDS Day with an appreciated focus on the theme of 'Equalize' to highlight the inequalities found in HIV care and prevention. This call to action implores us to improve access and distribution of HIV testing, antiretroviral drugs, treatment, and other services globally under the unique and challenging events that have impacted people living with or at risk of HIV infection.
Despite some progress, disparities in HIV prevention, treatment, and engagement in research persist among women, racial/ethnic, and sexual/gender minorities.  Data from the USDHHS show that women represent one in four people living with HIV in the U.S. and the progress and pathways towards addressing many unique clinical and therapeutic issues for consideration in caring for women living with HIV are highlighted in our focused special issue in 2022. Notably, the first successful cure of a woman living with HIV occurred in 2022 and is an important step in the inclusion of women in cure successes.  Further, one of the most comprehensive surveys of transgender women conducted by the CDC in the U.S. revealed that nearly two-thirds of African American/Black transgender women and more than one-third of Hispanic/Latina transgender women surveyed are now living with HIV. A clear and pressing need for enhanced HIV prevention and care strategies for transgender women is needed to address this health crisis.  This November, we presented a special issue dedicated to research work addressing transgender health globally.
As the Journal continues to highlight areas of need in the HIV/retrovirology arena, another pressing area is the aging population of persons living with HIV.  September 18 is National HIV/AIDS and Aging Awareness Day (NHAAD) and is focused on bringing attention to issues related to HIV among older Americans.  In 2022, we contributed to this effort by highlighting new research on HIV and Aging, as well as introducing a new and dedicated HIV and Aging section to the Journal.
Looking ahead, we know that many challenges still face the HIV field.  There are an estimated 38 million persons living with HIV, including nearly 13 million persons still without access to antiretroviral therapy.  High priorities include the ongoing search for improvements in the continuum of care, an effective vaccine, improved care for those with HIV complications, and a continued resilience in our pursuit for a functional or sterilizing HIV cure.  As highlighted above, further fights for equity among sexual, gender, and racial minorities remain, as well as additional burgeoning concerns for areas such as aging and climate inequality.  All of which have been impacted by the continuing COVID-19 pandemic and the Monkeypox outbreak, which not only affect our daily lives but how we look at the future of HIV research. 
To mark World AIDS Day, we acknowledge successes in the field as well as the important path ahead.  As such, AIDS Research and Human Retroviruses will provide complimentary access to some of our recent Top Read articles. As always, we appreciate our readers, reviewers, community of researchers, and other stakeholders, and welcome your feedback.
With best regards,
Co-Editors-in-Chief R. Keith Reeves, PhD and Lishomwa Ndhlovu, MD, PhD