The 30th Annual Conference on Retroviruses and Opportunistic Infections (CROI) was held February 19-22 in Seattle, Washington and virtually. Established in 1993, CROI brings together basic scientists and clinical investigators to discuss the epidemiology and biology of human retroviruses and associated diseases. In addition to the latest science related to HIV, this year's program also featured new findings on SARS-CoV-2 and the mpox virus (formerly known as monkeypox).
CROI has long been an opportunity for CFAR members, especially trainees, to present their work. Through a targeted small grant mechanism created in response to the emerging mpox outbreak, the Duke CFAR was able to support an innovative project to engage an entire class of first-year adult Infectious Disease fellows in a study examining testing for sexually transmitted infections (STIs) among people tested for mpox and health disparities in mpox vaccination.  This project provided the fellows an early experience working in HIV-related clinical research and exposure to team science.  Emily Niehaus, MD, MPH and E. Wilbur Woodhouse, MD, MPH, two first-year Infectious Disease fellows, a team led by second-year fellow Ahmad Mourad, MD that includes Naseem Alavian, MD, MPH, Steve Pappas, MD, Hayley Cunningham, MD, Sofia Zavala, MD, MS-GH, Patricia Kohler, NP, Gary Cox, MD, Kristen Dicks, MD, MPH, Nwora Lance Okeke, MD, MPH, Michael Yarrington, MD, MMSCi, Cameron Wolfe, MD, MPH, and Jason Stout, MD, MHS.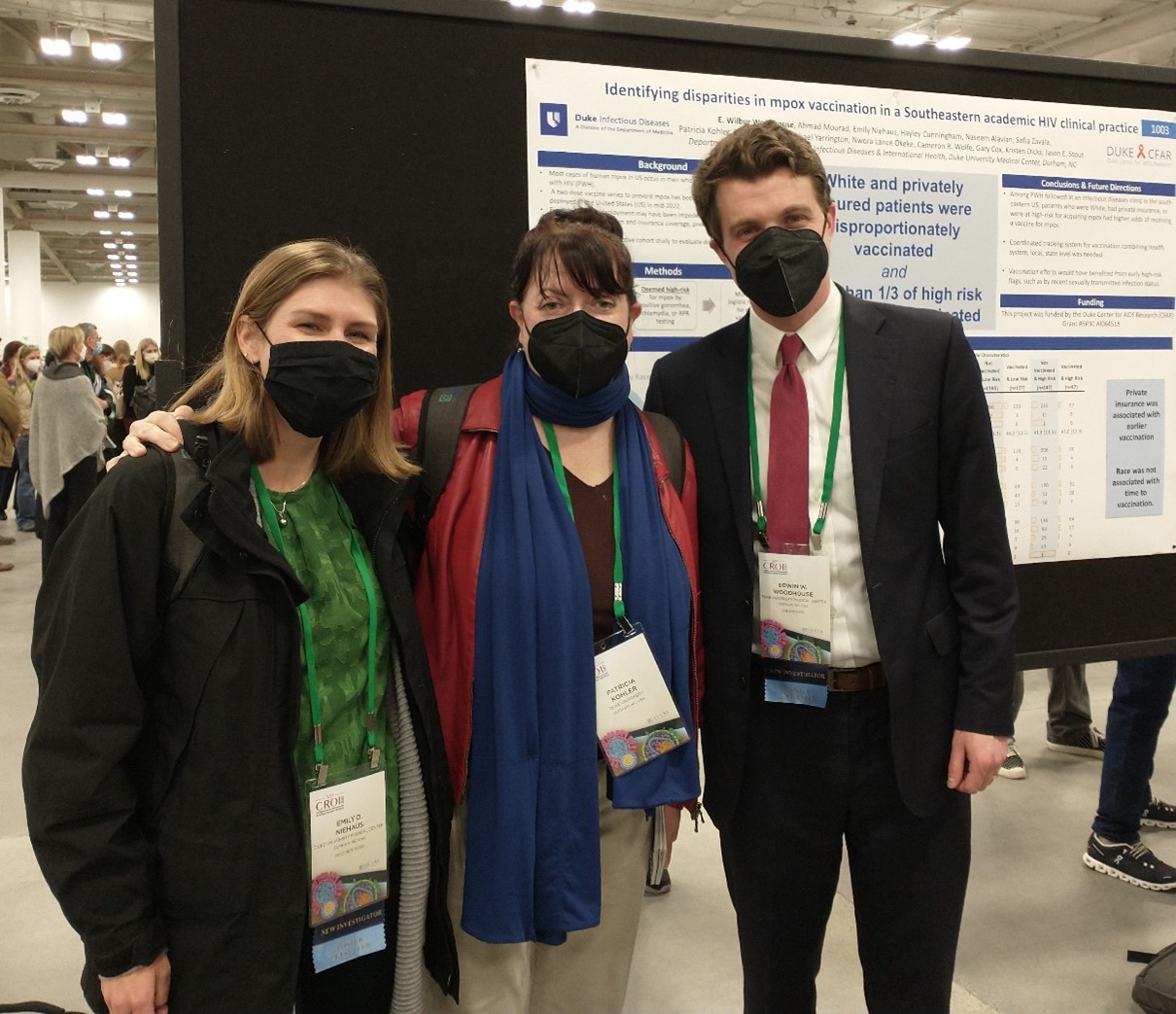 Identifying disparities in mpox vaccination in a Southeastern academic HIV clinical practice
The United States began deploying a two-dose vaccine series for mpox prevention in mid-2022 to address the global outbreak of mpox. The outbreak has disproportionately affected persons with HIV; according to HIV.gov, "current data suggest that about 40% of people diagnosed with mpox in the United States also have HIV." Barriers to healthcare, including structural racism and insurance coverage, may impede equitable vaccine distribution among those considered most at risk of acquiring the mpox virus.
Woodhouse et al. describe their review of the Duke electronic medical record to evaluate vaccination disparities by race, insurance, and mpox risk. They identified 2,066 people with HIV (PWH) who attended their clinic between July 2021 and November 2022, and highlighted "high risk" patients for acquiring mpox if they tested positive for gonorrhea or chlamydia, or had antibodies to syphilis during this period.  Of the 2,066 PWH identified, just over 10% had received at least one dose of vaccine for mpox. Patients who were white, had private insurance, or were at high-risk for acquiring mpox had higher odds of receiving a vaccine for mpox.  However, even among the "high-risk" group fewer than 50% were vaccinated. Their findings reinforce the urgency of efforts to reduce racial, ethnic, and socioeconomic disparities with equitable access to vaccination, particularly in the setting of rapidly evolving public health emergencies, and also the need for more coordinated vaccine tracking between health systems and state and local health departments.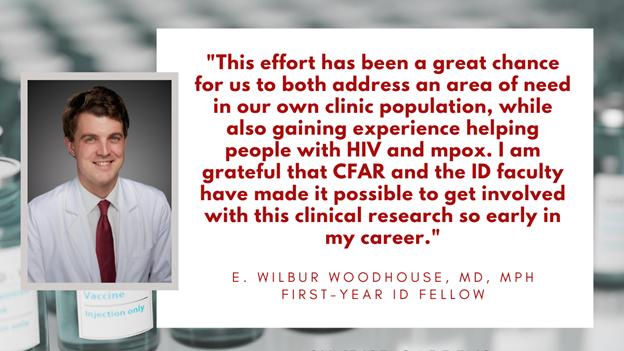 "We wanted to take a look at our own vaccine delivery efforts, highlighting best practices that could be expanded and replicated, as well describe any shortcomings so we could improve in future efforts," Woodhouse explained. Reflecting on the impact of this research opportunity in shaping his training, he shared, "This effort has been a great chance for us to both address an area of need in our own clinic population, while also gaining experience helping people with HIV and mpox. I am grateful that CFAR and the ID faculty have made it possible to get involved with this clinical research so early in my career."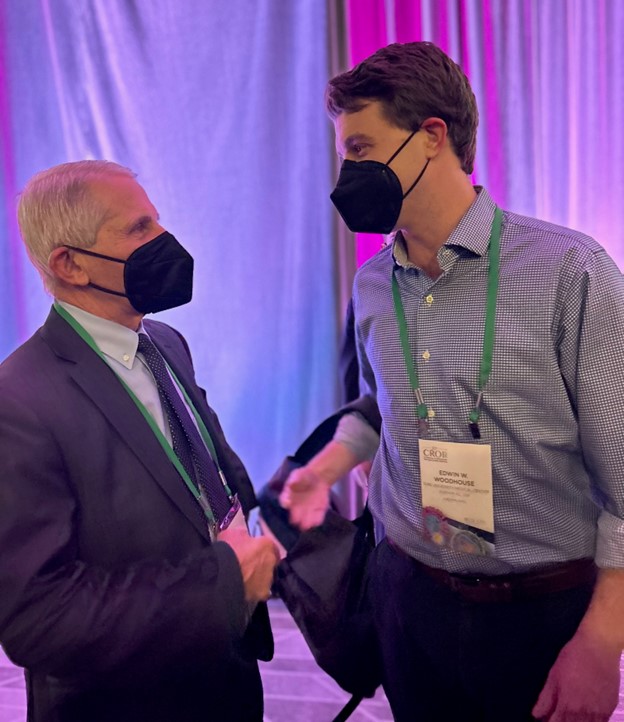 Concurrent STI testing among patients tested for mpox at Duke University Healthcare System
Given the high occurrence of co-infection with STIs and mpox observed during the 2022 mpox outbreak, comprehensive testing for incident STIs, including HIV, should be performed alongside mpox testing. However, actual practice of testing in routine practice was unknown. Niehaus et al. reviewed medical records to identify patients who tested for mpox in the Duke Health System and assessed concurrent STI testing during the same encounter using laboratory data. Between July and November 2022, 225 patients tested for mpox. The majority of these patients were male (71%) and non-Hispanic (81%). 42% were Black or African American, and 15% had a known diagnosis of HIV.
The review revealed that most patients tested for mpox in the Duke Health System were not comprehensively tested for STIs. Less than one-third of patients tested for mpox were also tested for concurrent gonorrhea or chlamydia, and one-third of patients not living with HIV were tested for HIV. More than half of patients (54%) who tested for mpox were also tested for syphilis. The lack of comprehensive screening is concerning, especially given that when testing was performed, concurrent STIs among patients with mpox were common: 21% of patients with mpox were diagnosed with a concurrent STI. Their findings emphasize the importance of comprehensive testing services, as well as the utility of electronic record-based review to identify gaps and opportunities for STI screening.
Niehaus commented on her experience as an infectious diseases trainee during the emergence of the mpox outbreak, sharing "As clinical fellows, we've all seen and treated patients with mpox this year, and it's been rewarding to be able to step back and ask questions that affect our patients within the larger health system, all in the context of an international public health emergency." She also reflected on the value of the project and opportunity to further her research training and networking: "This project has been thoughtfully designed so that we gain bite-sized experience in a wide range of research practices, including grant writing, developing methods, analytics, and dissemination of our findings.  Of course, Will and I are particularly thrilled about the opportunity to attend CROI - both for the experience we'll gain in presenting these results and for the chance to learn from and network with experts in the field."