The 12th International AIDS Society Conference on HIV Science (IAS 2023), held in Brisbane, Australia in July, featured research from several CFAR investigators.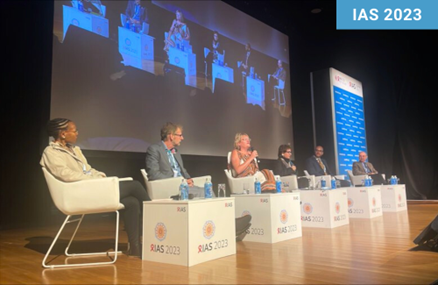 As detailed in an article from aidsmap: "Findings from the landmark REPRIEVE trial, which tested a daily statin medication for people living with HIV… were presented at a symposium that also included a discussion of cardiovascular disease among people with HIV and the study's implications for clinical practice.
As aidsmap reported, the study showed that participants randomly assigned to receive pitavastatin had a 35% lower risk of heart attacks, strokes and other major cardiovascular events compared with the placebo group. The demographics, co-morbidities and laboratory values of the study participants reflected low to moderate cardiovascular risk – a group that normally would not be prescribed statins.
A growing body of research shows that people with HIV are at greater risk for cardiovascular disease (CVD), and this risk is rising as they live longer thanks to effective antiretroviral therapy. But even those on consistent treatment can have persistent immune activation and inflammation that contribute to cardiovascular problems. Statins reduce low-density lipoprotein (LDL) cholesterol levels and also have anti-inflammatory properties, so they could potentially address both traditional and non-traditional risk factors.
Dr. Gerald Bloomfield of Duke University in North Carolina, noted that the burden of CVD attributable to HIV is increasing worldwide, but 'is not experienced equitably,' with a more rapid increase in low- and middle-income countries. While heart disease deaths are still more common in high-income countries, that is partly because these countries have older populations – in fact, lower- and middle-income countries have higher age-standardised CVD mortality rates. The rise in CVD is particularly notable in countries that have experienced, 'recent social and epidemiological transition,' meaning a shift in mortality from infectious diseases to chronic non-communicable diseases (NCDs)."
Read the full article from aidsmap.
Wilton Williams, PhD, gave a plenary presentation at IAS in the Vaccines and Cure session titled "Engineered HIV-1 Immunogens to induce Broadly Neutralizing Antibody (bNAb) Responses". Williams presented an overview of HIV-1 vaccine development, including strategies for eliciting effective anti-HIV antibody responses termed broadly-neutralizing antibodies (bNAb) that are capable of preventing infection by multiple different HIV-1 strains. Additionally, he presented a summary of the vaccine trial portfolio for induction of bNAbs by the Duke Consortium for HIV/AIDS Vaccine Discovery (CHAVD) program, and the results of the HVTN133 human clinical trial that demonstrated vaccine induction of HIV-1 neutralizing antibodies in humans that had characteristics of bNAbs, which has never been reported.
Guido Ferrari, MD, gave a presentation titled "Requirements to harness ADCC responses for protection from HIV infection" during the Symposium on Immune responses critical for viral control and approaches to harness them in vivo. Ferrari reported findings related to the requirements for maturation (potency and somatic hypermutation) and breadth of antibody-dependent cellular-mediated cytotoxicity (ADCC). These responses are capable of eliminating virus infected cells and play an important role in protection and treatment of HIV-1 infection. Ferrari provided a review of findings in studies conducted with the Military HIV Research Program (MHRP) evaluating ADCC during acute HIV infection (RV254) and following immunization in Thailand (RV144 and RV305), and with the HIV Vaccine Trial Network (HVTN) for phase I and II clinical trial (HVTN 097 and 100) in Sub-Saharan Africa. The results highlighted the importance of repeated immunizations with delayed boosts to elicit potent ADCC responses; the breadth of ADCC responses required antigen diversity for the immunogen design. These concepts, i.e. multiple boost with delayed intervals using immunogens representing recently isolated HIV-1, were tested in a non-human primate study, designed by Duke Investigators at DHVI and Dr. Bette Korber, and revealed their importance in providing up to 66% protection from challenge with an heterologous virus.
Keith Reeves, PhD, gave an Invited talk at the HIV Cure & Immunotherapy Forum of IAS2023 entitled "Antigen-specific NK cells as a potential mechanism for virus control?" Dr. Reeves gave an overview of the current knowledge regarding natural killer (NK) cell-mediated prevention of HIV and the role of NK cells in post-treatment control. More specifically he elaborated on HIV antigen-specific NK cells which can be induced both virologically and by vaccines. For the first time, mechanisms of formation and infected cell recognition were shown, and importantly, Dr. Reeves discussed a roadmap for harnessing these cells therapeutically in persons living with HIV.
Cordelia Manickam DVM, PhD, presented a short talk entitled 'Perturbation of mucosal granulocytic effector cells in lentivirus infections' which described the often-overlooked granulocytic effectors in health and disease, at the 'Mechanisms of transmission and novelties in vaccine design' session, IAS2023. Dr. Manickam presented a battery of cutting-edge assays developed to understand the roles of granulocytes, specifically neutrophils and eosinophils in lentiviral immune defense/pathology. Her results highlighted depletion of mucosal granulocytes and altered ability of peripheral granulocytes to respond to microbial stimuli, post chronic SHIV infection. Her talk underscored the mucosal significance and potential therapeutic implications of granulocytes against HIV.